---
DO NOT DESTROY YOUR POOL USING A CHINESE MADE METAL IMITATION!
Twenty seven Years and Growing. The Original and only polymer "DUTY FLEX" Mounting That Is Safety Proven.
Solar Saddle The Finest, Safest, most Reliable Solar Cover Holderę Available Today.
FOR OVER 27 YEARS SOLAR-EZ, INC. HAS SPECIALIZED MANUFACTURING SAFE DURABLE "DUTY FLEX" POLYMER SOLAR SADDLE COVER HOLDERS.
DUE TO, "DUTY FLEX" MOUNTING, AND HIGH CUSTOMER PRODUCT SATISFACTION, CHILD SAFETY AND OTHER PROTECTION ISSUES CONSIDERED;
WE WILL CONTINUE HIGH SAFETY STANDARDS TO PROTECT CUSTOMERS BY USING ONLY FLEXIBLE, NON-MARRING, NON-CORROSIVE POLYMER MATERIALS.
Below shows the SAFE Solar Saddle« holding a 27 foot cover, Followed by graphics and instructions.
---


Neatly stored and out of the way"
---
"Duty Flex" Safety Designed Mounting Hardware for one saddle,
one flexible polymer mounting bracket, safety shear pin,
end cap and SS nut and bolt, 5 included for complete set.

---

Mounting is simplified by laying out the Solar Cover and visually seeing where to place each Bracket and Saddle.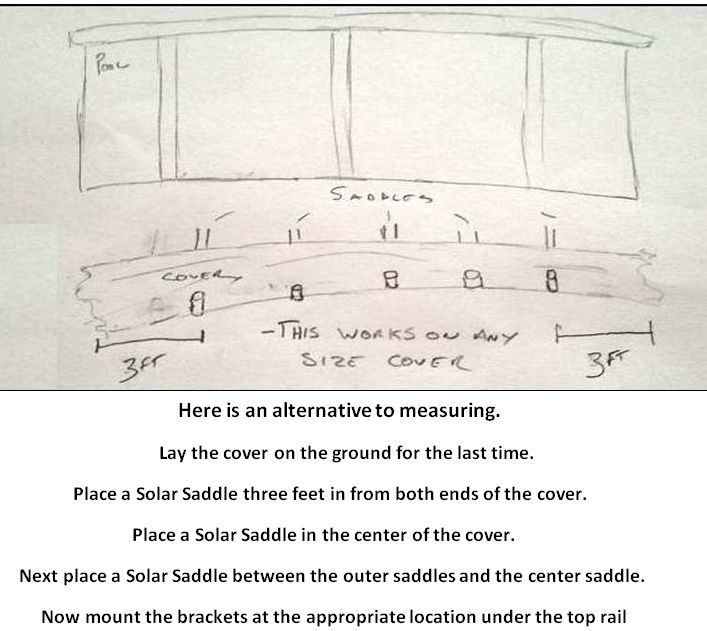 ---
The picture below is an image of what you would see if you were on the outside of the pool and
looking at the bracket mounted under the top rail from the front of the pool. What is shown
from the top down are the bolts going down through the top rail then the bracket and the nuts placed
on the bolts. Next the Solar Saddle« is placed in the bracket and the mounting pin is place through the
bracket and the saddle completing the mounting of the bracket to the pool and the Solar Saddle« to the bracket.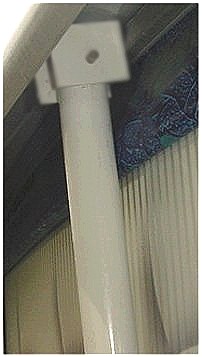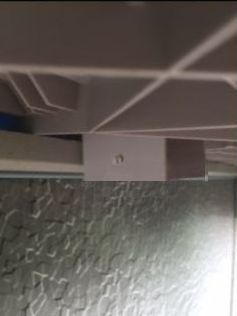 Above left, standard metal top-rail, Above right, Watson or vinyl waffle top rail with our polymer bracket base trimmed to fit in waffles.
---
CONSUMER WARNING:PROTECT YOU, YOUR KIDS, AND YOUR POOL
NEVER EVER BOLT OR AFFIX
ANY TYPE OF METAL LEVER TO YOUR POOL'S TOP RAIL OR UP RIGHTS,
THE METAL ATTACHMENTS WILL MOST CERTAINLY DAMAGE YOUR POOL WALL, TOP RAIL AND COVER,
WITH ITS UNYIELDING RIGID STRENGTH IT WILL ACT AS A WALL SCRAPER, A PRY LEVER, AND A LADDER FOR KIDS TO CLIMB!


---

SOLAR-EZ, INC. HAS BEEN MANUFACTURING SAFE "DUTY FLEX" COVER HOLDERS FOR 26 YEARS,
FOR CUSTOMER "GOOD WILL" AND PRODUCT SUCCESS WE USE ONLY POLYMER MATERIALS.
OUR FLEXIBLE POLYMER SOLAR SADDLES WILL PROVIDE YOUR FAMILY PROTECTION AS DESIGNED.

---

The most important step in mounting the accessory is to, "MEASURE YOUR COVER", and allow 2.5 to 3 feet to drape over the outer saddle!!

Below shows the 5 Solar Saddles« mounted on a 27 foot round pool and the solar cover stored neatly in the Solar Saddles«.
In one step the cover is removed and stored while you enjoy your swim.

Example for 27 foot pool, allow as close to 3', (applies to all sizes), for draping the cover over the outside saddles 3', total 6', 3' on each end to hold cover in place, leaving 21' of cover to place in the saddles. Use your measurements as needed for mounting the Saddles on your pool.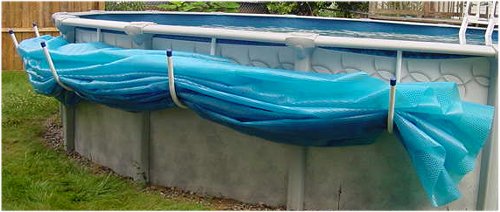 ---
---
Above, standard metal top rail with bracket mounted under railing.


---

Below, Watson or plastic waffle reinforced top rail with bracket corner(s)trimmed and mounted under railing.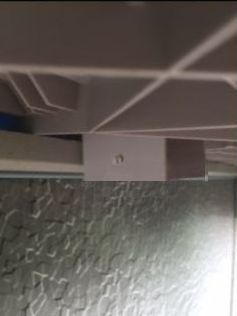 Above is a bracket mounted under waffled vinyl top-rail. Watson type, bracket base trimmed to allow the bracket to fit.


---

Below shows the Solar Saddles« mounted on a 27 foot round pool and the 26 foot solar cover stored neatly in the Solar Saddles.


In one step the cover is removed and stored.


This is what a cover looks like properly stored on a 27 foot pool,
if yours looks different, reread the directions, and measure the cover.
MAKE SURE TO HAVE THE CORRECT AMOUNT DRAPING
OVER THE OUTSIDE SADDLES FOR GREAT RESULTS; up to 3 feet.

---

DIRECTIONS
Now the hard way
MEASURE YOUR COVER, THAT IS WHAT YOU ARE HOLDING.
IT IS MOST IMPORTANT TO UNDERSTAND THE MEASUREMENTS AND ALLOW 2 1/2 TO 3 FEET TO DRAPE OVER THE OUTER SADDLE AND CORRECTLY SPACE THE SADDLES.

IT DOESN'T MATTER IF IT IS 18', 24', 27' DO THE MATH TO ACHIEVE CORRECT MOUNTING SPACING.

IF YOU WANT AN ADDITIONAL SADDLE ORDER IT FROM US.

THIS 27' EXAMPLE IS JUST THAT AN EXAMPLE, MEASUREMENTS MUST BE ADJUSTED AS EXPLAINED FOR EACH POOL AND COVER.

The installation is simple and easy!

"Manufactures measure their pools differently and covers are different in size,

YOU NEED TO KNOW THAT AND, it is a must to measure your POOL COVER; remember you are holding the cover.

They may say it is 27 feet but, the water surface may be more or less than that claimed size, the same with the cover.

Note: You need to Measure your cover, so you know the correct distance to space the saddles to fit the cover on your pool.

You need to have the correct measurements to properly space the saddles

Measure your cover, example, 27' next minus 5' so at least 2.5' can drape over the outside saddles to assist holding the cover in place.

Now you are dealing with 22' cover to mount on the saddles.
Now divide 22 by 2= 11', that is how far to place the outside saddles measuring around the pool from the center mount.

Place the center mount where you have determined.
Now measure 11' each direction from the center mount and place the outside mounting brackets there,

now place the two intermediate brackets between the center mounting and the outside brackets.


Tools requires; a 1/4" metal drill bit, a drill, a screwdriver, and a small adjustable wrench.
The plastic parts are designed to fit tight, you may need to ream out some mounting holds for the pins to fit, very easy.
The corners of the brackets may also be trimmed if needed.

<*>OneIMPORTANT STEP IS mounting the accessory and evenly space the saddles to allow 2 1/2 to 3 feet of the
cover to extend over/past the outside saddles, measurements will vary with different cover sizes.<*>

Refer to the 27 foot pool picture above, make sure you measure your cover for the actual size of the cover size.

A Solar Saddle« set includes 5 saddles and all mounting hardware, special needs parts and saddles can be ordered from us as needed.

Hardware includes, 5 mounting brackets, 20 stainless steel flat pan head bolts,
(10 for those with Metal top rails and 10 for select Vinyl (PVC) top rails), 5 hex nuts, and five mounting pins.

The first step in is to locate where you want to place the saddles to store your cover.

The second step is to mount the center bracket.

Place the bracket under the top rail close to the side wall, see the drawings above.

Use the bracket holes as a template and drill the 1/4" holes. Two holes are required per bracket.
This does not hurt your pool, most reels require drilling eight holes.

Now mount the outside saddle brackets.

Important: adjust the measurements for your cover size to achieve the 2 1/2 to 3 foot drape on both outside saddles.

Now mount the last two brackets between the center and outside brackets. Next mount the saddles to the brackets with the pins, your done.

If you can stay out of the pool the project should take less than 20 minutes, it really is easy.

The saddles extend from the side of a pool about 18" and down the edge of the pool about 19".

Note: If your cover is 28 foot or larger you can just fold the solar cover back on top of the outside saddles, if needed,
or you may want to purchase single saddle kits that are readily available; E-mail us below.

---

THANK YOU FOR viewing our site

| | | | | | |
| --- | --- | --- | --- | --- | --- |
| | | | | | |