SOLAR SADDLE ®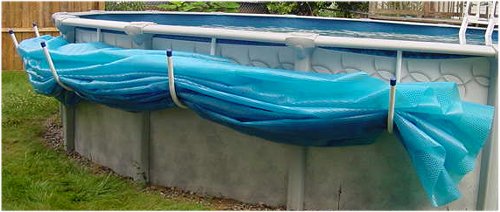 the founding History! Why are there thousands of SOLAR SADDLES ® purchased yearly by satisfied customers internationally? 27 years ago, we solved the safe storing with an A/G SWIMMING POOL COVER HOLDER.
• We had two A/G pools in our family. Like all owners of above-ground pools, we all dealt with the painful task of safely managing and storing the SOLAR COVER off the deck, ground, and grass and out of the way, safely.
• We decided to find a way to conquer that painful chore. We time tested many designs using polymer and metal prototypes. We named the product in generic terms, "SOLAR COVER HOLDER". To be mounted under the top rail.
• We time tested using different metal tubing assembled with nuts and bolts, these failed our test, they left many snags and wear points to destroy covers and were so strong they pulled bolt heads through or bent the top rails.
• Time-tested results lead us to produce a smooth round fully assembled one-piece tube of flexible polymer material in a J or U shape and they worked very well.
• Our goal was to create a safe and effective SOLAR COVER HOLDER and we uncovered the needs of our goal. We used polymer to prevent both short and long-term damaging results.
• Using any metal holders during our long-term testing developed always developed either short or long-term damage to the pool or solar cover.
• We also added flexible trim-able polymer mounting brackets and shear pins for additional safety. We were looking for a long solar cover life and a safe accessory to attach to our pools and we found the material and design.
• We solved solar cover management. With the success of a single-piece holder, 5 per set, and how they were liked so well by local users we had to present it commercially to all above-ground pool users.


---

SOLAR SADDLE ® IS THE ORIGINAL AWARD WINNING MICHIGAN INVENTED POLYMER, "SOLAR COVER HOLDER", NO ASSEMBLY REQUIRED. WE HAVE SUCCESSFULLY ELIMINATED THE USE OF ALL-METAL HANGERS. THIS DESIGN DOES AWAY WITH MOST POTENTIAL DAMAGING ISSUES, MISUSE ASIDE. THE DESIGN MAIN FACTOR OF OVERALL SAFETY ELIMINATES ISSUES OF DAMAGING YOUR COVER AND POOL; BENDING YOUR TOP RAIL OR YOUR POOL IS NOT AN AREA OF CONCERN. ALSO, BEING A SINGLE STRUCTURE ELIMINATES WASTING TIME ON AN ASSEMBLY PROJECT. WE HAVE ALSO PERFORMED TIMELY SAFETY TESTS ON OUR PRODUCT TO DISCOVER FUTURE USE DAMAGE DEVELOPMENTS TO SUPPORT CONFIDENCE IN OUR PRODUCT. ANY PRODUCT THAT DOES NOT MEET THESE HIGH STANDARDS SHOULD BE THOUGHTFULLY EVALUATED AND RECONSIDERED.

SOLAR SADDLE ®safety is a proven single-piece designed polymer saddle fully made in America, paying the American workers the prevailing wages.
We are pro-America, Communist China has taken our idea defected the design, cheapened the material, and produced a 70-piece metal assembly puzzle.
COMPARE AND CONSIDER, AN AMERICAN MADE 27 YEAR PROVEN SAFETY POLYMER SOLAR SADDLES ® OR
A STOLEN CHINESE PAINT SCRAPING, BOLT PULLING, BRACKET SIDE WALL CUTTING METAL HOLE PUNCHER.
ORIGINAL POLYMER SOLAR SADDLE ® 5 PIECES FOR 5 SADDLES -VS- CHINA FAKE 70 PIECES FOR 5 HOLDERS.
SOLAR SADDLE ® - VERY FEW PART - NO ASSEMBLY -VS- CHINA FAKE A PARTS ASSEMBLY PROJECT.
THE ORIGIN AND EVOLUTION OF THE "SOLAR COVER HOLDER".
SOLAR SADDLE ® AN ORIGINAL IDEA AND THE FIRST SAFETY-DESIGNED AND PROVEN A/G POOL, SOLAR COVER HOLDER.
MADE IN AMERICA SINCE 1996, PAYING U.S. PREVAILING WAGES.

SOLAR SADDLE ® AMERICAN MADE BY SOLAR-EZ, INC.


SOLAR SADDLE ® ORIGINAL DESIGN American made VS Chinese made DEGRADED CHINESE FAKE - parts, 70 parts per set.
vs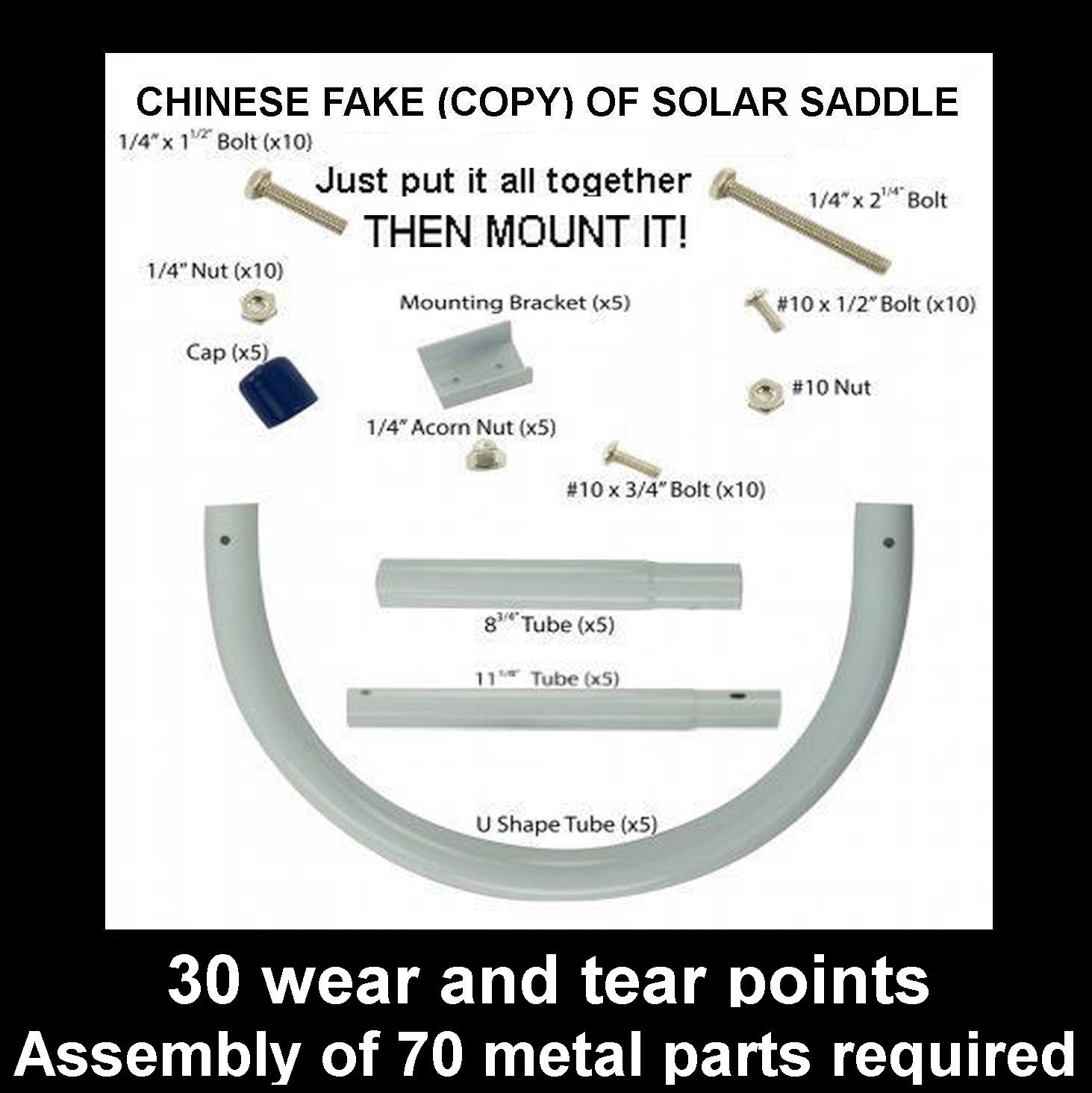 SOLAR SADDLE ® INVOLVES 10 PARTS - VS - CHINESE FAKE REQUIRES AN ASSEMBLY PROJECT OF 70 METAL PARTS

"SOLAR SADDLE ®" SAFETY-DESIGNED, U.S.- CONCEIVED AND MADE IN USA, ORIGINAL FLEXIBLE POLYMER, SOLAR SADDLE ® COVER HOLDER, REQUIRING ONE POLYMER PIECE PER SADDLE. FLEXIBILITY ALLOWS HOLDER CONTROLLED MOVEMENT, PREVENTING BENDING OF POOL TOP RAIL, AND THE PULLING THROUGH OF MOUNTING BOLTS, AMONG WORSE ISSUES. &nbsp
VS
A CHINA HACKED COPY, IS SAFETY CHALLENGED, THOUGHTLESSLY USING DESTRUCTIVE RIGID CHINA METAL, REQUIRING 7 (SEVEN) HARMFUL METAL PIECES PER HOLDER.
NO FLEXIBILITY IN A METAL HOLDERS CAUSE EIGHT ONGOING AND SEVERAL COSTLY NEGATIVE ISSUES. EVEN CAR MIRRORS FLEX FOR SAFETY AND PROTECTION.

WITHOUT THE BRACKET FLEXING THE POOL'S TOP RAIL WILL FLEX CAUSING TOP RAIL FATIGUE AND EVENTUAL TEARING OF THE RAILING. THIS ISSUE HAS BEEN PROVEN MANY TIMES!
---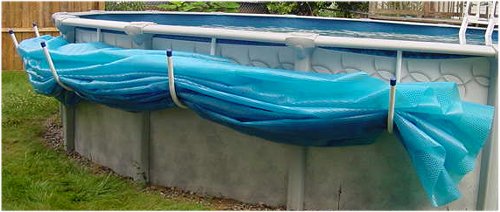 SOLAR SADDLE ® custom, VERY forgiving, flexible, polymer saddles arrive fully assembled.
The CHINESE FAKE requires sorting and manual wrenching the assembly of 70 damaging, rigid metal pieces.
The Solar Saddle ® one-piece polymer hanger construction design can be installed on the pool faster than the China FAKE can be assembled. FAKES, by design just fall short!
Save Time, Effort, and Money stop wrestling your solar cover.
Keep your pool cover and area neat, safe, and clean, use the one-step SOLAR SADDLE ® system.
Solar Saddle ® - A Very EZ, Safe and Convenient one-step Solar Cover Storage System.
---
SOLAR SADDLE ® FEATURES
• Easy and quick storage removal and replacement of your Solar Cover.
• Being flexible is one major important safety feature of the Solar Saddle ® cover holder, Patent awarded.
• Keeps cover clean, off the grass and debris and pool deck area cluttered free with solar cover stored out of the way.
• Extend your solar cover life, save money, and stop killing your grass and transferring debris from the ground to pool water.
• Solar Saddle ® is not limited to steel-walled pools only, a pool must have a hard frame of some sort or mount on a post.
• Polymer mount brackets on round tube frames, i.e., Intex, easily trim sharp corners and mount vertically to uprights with self-tapping screws. **
• Flexible and flimsy are two different things, a steel cable is flexible and yet, extremely strong, not flimsy.
• Flexibility is a built-in safety function to protect your pool, solar cover, and swimmers.
•The China rigid metal mounting bracket worried a user to the point of cutting through the wall of his pool; for safety, he ground off all the pointed metal corners.
• Unlike rigid metal, polymer saddles will not destroy top rails, scrap paint off, or crush plastic top rails among other issues.
• Mounting bracket can be trimmed easily to mounted under plastic waffle top rails.
• Flexible design feature prevents mounting bolt heads from being pulled through the top rail.
• Safety, Duty Flex, mounting features, flexible mounting brackets, and shear pins reduce abuse of pool and are replaceable.
• Smooth thoughtfully designed one-piece saddle construction, no assembly required, 5 per set.
• Single additional saddle kits and miscellaneous parts can be ordered from us as needed.
• No nuts and bolts protruding from saddles to grab, snag, catch, wear and provide rip points, when placing or replacing solar blanket extending the cover life.
• Solar Saddle ® is flexible yet extremely strong to prevent damaging your pool and cover, strong and flexible like steel cable.
• No metal joints to wear, tear, and catch solar blanket, all of which shorten solar cover life.
• Parts are available for any reason at, http://www.coverholder.mysite.com/order.htm, press the red button.

• Misuse of any product results in many undesired outcomes, we have diligently designed and tested many product features to help eliminate any negative issues.
• We have designed the first SOLAR COVER HOLDER to be the best safe, and most durable product, as with all our customers we hope to make; your swimming pool experience more enjoyable.
• SOLAR SADDLE ® - with the unique design is an award-winning product made in AMERICA in the state of Michigan.
---
•We feel very honored to have our original idea and product copied, but not by immoral China, and not degraded, using cheap and forced labor;
and destructive design changes using a rigid mounting concept and damaging metal material. We use American labor and flex materials .•
DON'T RISK DAMAGING YOUR POOL USING A CHINESE METAL FAKE; that are currently PROMOTED for Steel Wall Above Ground pools only,
THE REASON, IS METAL CAUSES DAMAGE. WE TESTED MANY METAL PROTOTYPES AND ALWAYS FOUND TWO DESTRUCTIVE PATTERNS THAT FAILED OUR SAFETY GOALS.
FOLLOWING HISTORY, WE INVENTED AND DESIGNED THE SOLAR COVER HOLDER OVER THREE YEARS; TO PROVIDE YOU THE POOL OWNER A SAFE AND EFFECTIVE PRODUCT.
WE DIDN'T JUST COPY AND DEGRADE A CURRENT PRODUCT. WE SPENT TIME BUILDING AND TESTING DOZENS OF PROTOTYPE DESIGNS TO PROVIDE A SUPERIOR PRODUCT. WE ARE VERY PLEASED TO SEE OUR INVENTION'S LEGACY DEVELOP AND BECOME A STANDARD SWIMMING POOL ITEM. IF YOU CAN'T ORIGINATE AN IDEA, JUST STEAL IT!
MICHIGAN MADE POLYMER SOLAR SADDLES ® WERE LONG AGO, BY THE TENS OF THOUSANDS, PROVEN SAFE, AND DURABLE.
•HELP FIGHT INTELLECTUAL THEFT, MORAL DEFICIT, AND SLAVE LABOR PRACTICES OF CHINA, BUY AMERICAN.•

---
• HAVE YOU NOTICED THAT CAR MIRRORS FOLD BACK FOR SAFETY
TO PROTECT YOU AND YOUR CAR, SELDOM BREAKING OR DOING DAMAGE.
"SOLAR SADDLE ® " FOLLOWS THE SAME PROTECTIVE IDEA, FLEXIBLE DESIGN. •

---
SINCE 1998 SOLAR-EZ, INC. HAS SPECIALIZED IN PRODUCING FLEXIBLE, DURABLE, POLYMER SOLAR SADDLES ® TO JUST DROP YOUR SOLAR COVER IN.

DUE TO HIGH CUSTOMER SATISFACTION, CHILD SAFETY AND POOL PROTECTION NEEDS TO BE CONSIDERED;
PURCHASE THE FULLY ASSEMBLED SAFE SOLAR SADDLE ® SYSTEM.

WE WILL CONTINUE TO PROTECT CUSTOMERS SOLAR COVERS, AND SWIMMING POOLS SAFETY BY USING THE
SAFER, MORE COSTLY, DURABLE, FLEXIBLE, NON-CORROSIVE, NON-MARRING, SMOOTH POLYMER MATERIALS.

OUR SMOOTH AMERICAN MADE ONE PIECE POLYMER SADDLES REQUIRES NO ASSEMBLY;
THE CHINESE FAKE REQUIRE 70 DAMAGING METAL PIECES TO BE ASSEMBLED.
---
IF SOLAR COVER HOLDER MOUNTS DO NOT FLEX IT WILL BEND, WEAR, TEAR, RIP, AND SCRAP, OR PULL BOLTS
THROUGH TOP RAIL, AND WILL CAUSE PREMATURE SOLAR COVER AND SWIMMING POOL WEAR AND
ASSEMBLY BOLTS WILL SHORTEN YOUR SOLAR COVERS LIFE AND MAKE REMOVING AND
REPLACING COVER MORE DIFFICULT. PERIOD!
---
"Don't support Communist China", using stolen intellect and degraded design, A 70-piece metal puzzle; You want the safest single piece fully assembled American-made Original SOLAR SADDLE™.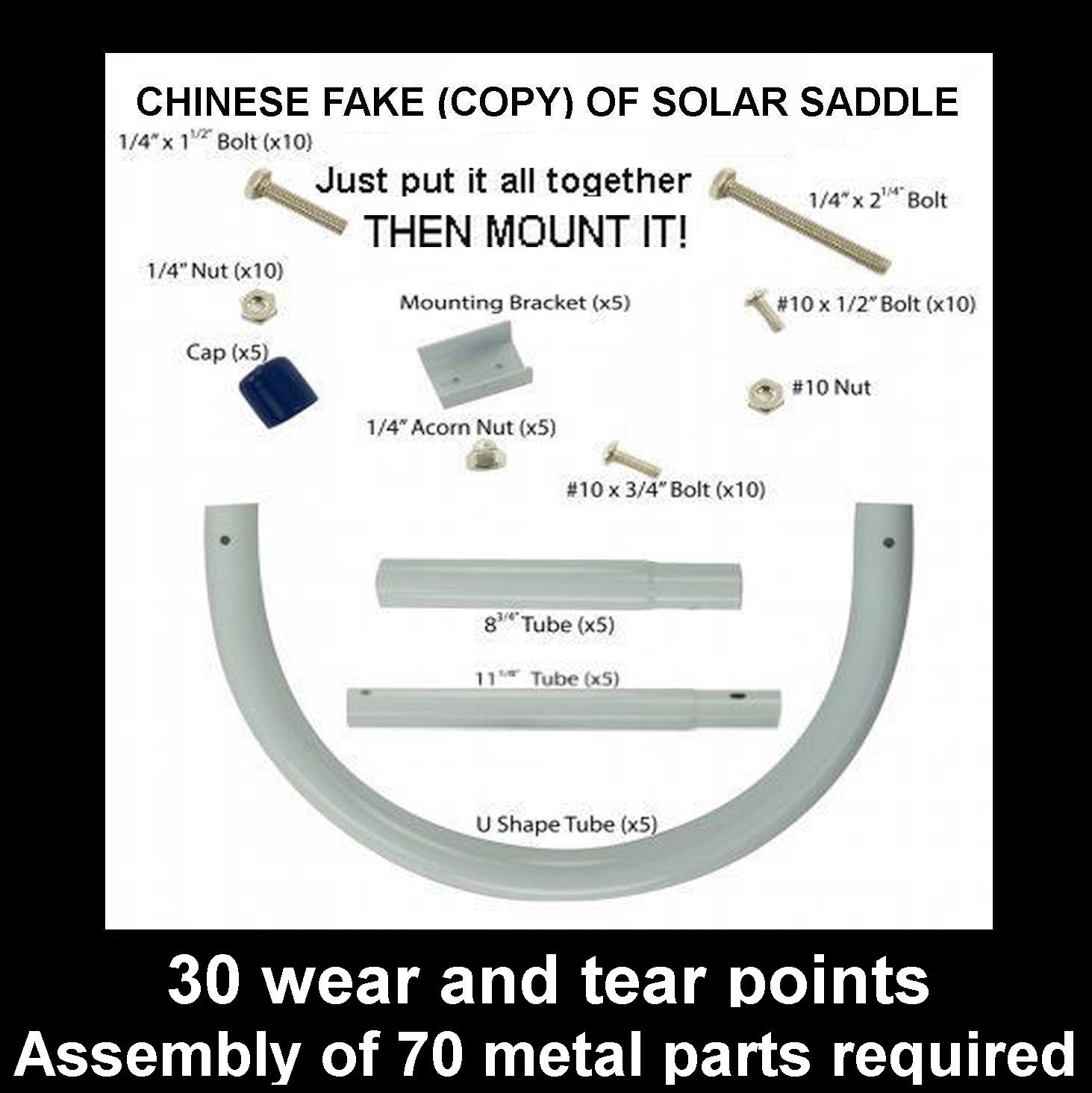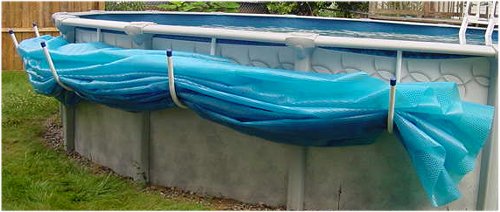 Click Here> Additional, AMERICAN MADE, Single SOLAR SADDLE ® Kits and parts are always available for your needs.
Websites: SOLARSADDLE.net - SOLARCOVERHOLDER.com - COVERHOLDER.mysite.com


SOLAR SADDLE ™

SOLAR SADDLE ™ is the First Original thought for a SOLAR COVER HOLDER. We make it in the USA the Product is Designed For EZ Solar Cover Management.
One-Step, One Person, FULLY ASSEMBLED out of the way Solar Cover Storage!

....**Easy to use, Simple to Install, and Affordable.**....

Always choose Solar Saddle's ™ smooth one-piece, Duty Flex, fully assembled safety-designed polymer product.



"SOLAR SADDLE ™"
Above Ground Swimming Pool
Solar Cover Holder
Your solar cover storage needs are solved.

Click the "RED ICONS", let "Solar Saddle ™" make your life easier!

Below shows SOLAR SADDLE ™ easily storing a 27 foot round pool solar cover.

SOLAR SADDLE ™, An Above Ground Solar Cover Storage Product that is a Step above OTHER HOLDERS and SOLAR COVER REELS

---

"PROUDLY MADE IN MICHIGAN, USA"
WE SUPPORT AMERICA AND AMERICAN WORKERS

---

SOLAR SADDLE ™
The Original - Solar Cover Holder
Designed Using Very Strong - Flexible Polymer Components
For Safe, extremely Durable, EZ, One-Step, Solar Cover Storage System!
Best safety design and durable construction materials providing convenient performance:

SOLAR SADDLE ™ USES NO METAL HOLDER TO DAMAGE YOUR COVER, POOL OR INJURE YOUR KIDS

---

CONSUMER PRODUCT WARNING
DON'T EVER BOLT OR FASTEN
ANY RIGID METAL LEVER DEVICE FOR ANY USE TO YOUR POOL, THEY BEND YOUR SWIMMING POOL.
THE FULCRUM MAGNIFIED LEVERAGE PROVIDED IS UNSAFE AND WILL DAMAGE YOUR POOL.
WITH ITS STRENGTH IT ACTS AS AN UNFORGIVING PLACE FOR YOUR KIDS TO PLAY ON OR A SEAT FOR SOMEONE TO SIT IN AND DAMAGE YOUR POOL!

SOLAR-EZ, INC. HAS BEEN MANUFACTURING POLYMER HOLDERS FOR OVER 25 YEARS,
DUE TO HIGH CUSTOMER PRODUCT SATISFACTION AND CHILD SAFETY ISSUES;
WE WILL CONTINUE TO USE ONLY MORE EXPENSIVE SAFE FLEXIBLE POLYMER MATERIALS.

---

SOLAR SADDLE ™ SAFETY "DUTY FLEX" FEATURES INCLUDE:

Polymer Shear Pins are used to enhance your safety and to provide easy Solar Saddle ™ removal.


Polymer Mounting brackets can be trimmed and are designed to flex for your pools safety and are very strong for secure durable mounting of SOLAR SADDLES™, yet will give way for protection of person and pool.


Space age Polymer materials, using proprietary formula, is used for extreme strength and designed flexible qualities to prevent damage to swimming pool and you: Saddles contain no metal.


Flexible Strong Polymer Solar Saddle™ are easily removable by pulling one polymer pin.


Additional parts and, single saddle assemblies, are available to fill you personal needs.
Priced to provide your needs.



---

** Non-Sanctioned-Mounting methods provided by "Customers Ingenuity " describing saddle mounting on waffle braced and open pipe frames include;


a) Open pipe frames, use electrical ties, or 1 1/2" stainless screws on Intex type pools; trim sharp corners as needed.
If you vary from our directions use the brackets with shorter screws and trim sharp bracket corners round.


b) Waffle built plastic top rails, slightly trim bracket to mount between vinyl waffles.

THAT IS, VERSATILE, FLEXIBLE MOUNTING

---

A SOLAR SADDLE ™ is easier and quicker to use
and it cost much less than a solar cover reel. Click the "RED ICONS" ABOVE and left, let "Solar Saddle ™" make your life easier!

---

---

MANUFACTURER, SEE CUSTOMERS' SUGGESTIONS, COMMENTS, AND REVIEWS

In one step, your solar cover is removed and neatly stored. SOLAR SADDLE ™ connects to your pool on any side.
Your solar cover can be placed back on your pool surface while you are either in or out of your pool.

Our customers tell us that their Solar Saddle ™ is easier to use, much quicker and cost less than an above-ground solar cover reel, many have replaced their solar cover reel with the Solar Saddle ™ It does not require the strength, time, or inconvenience of manhandling and storing issues that an above-ground solar cover reel requires, and it cost much less.

Many customers say they replaced their solar cover reel with our product.

Quote, "We installed your product and hung the solar cover reel on the back fence." "Where do you hide that big ugly solar cover reel?"

You put your solar cover in your Solar Saddle ™ cover holder and your job is, DONE!


NOW, ENJOY YOUR POOL!

---

COMPARED TO AN ABOVE GROUND SOLAR COVER REEL


SOLAR SADDLE ™

Is a One-person, One-step, Easy to use System

Complete reviews are below
"An anti-pool husband commented on how easy it was to cover and uncover the pool."
"The SOLAR SADDLE™ will attach on a Watson and other pools with the waffle top rail."
"The product is stronger than I thought it would be."
"We installed it on the long side of an 18 X 34 pool."
"I suffer from disc disease in my back and it was not a problem going on or off!"
"Well worth the money!!!!"

---
SOLAR SADDLE ™ SPECIAL PARTS NEEDS
Start here for special parts needs.

E-mail us for additional information.

For special parts needs, E-mail Solar-EZ, Inc.

Saddles, Brackets, Pins, Threaded Fasteners, Caps,
Hangers, and complete Single Saddle Kits.

E-mail solarsaddleparts@gmail.com
---

-- CUSTOMER SUGGESTIONS, COMMENTS, AND REVIEWS SECTION --

Works for Intex Ultra Frame
By Paula
Rating 5 of 5
Verified Purchase
I bought this to store our solar cover. Easy to install using a drill and 1 1/2 screws.
Some reviews say it does not work on the Intex pools but it works great.
I am pleased with my purchase and recommend it to keep your cover clean off the ground.

By Kassi
Used on my 22x52 Intex ultra frame pool works great.
Rating 5 of 5
I was very hesitant to buy these for my pool because nowhere did it say or show different ways to attach them.
If you have an area to screw it onto the pool frame (using a 1 1/2 inch screw) it will work on any pool.

Great product Review by Pat
Rating 5 of 5
Easy to install. The product is stronger than I thought it would be. We installed it on the long side of an 18 X 34 pool.
We used the 5 saddles and they hold the solar cover just fine off the ground.

paul72
Rating 5 of 5 stars.
The great product saves lots of time and mess
I just want to follow up on how I mounted the saddles on a Watson pool with the waffle top rail. I did my research and talked to lots of people and reviewed
the manufacturers, solarsaddle.net, website and found that if you trim a small amount of the bracket it will fit between the waffles just great, and it did.
I talked with the customer service and they said that was fine to do since lots do it.
Many reviews said it is flimsy it is not it is safe to use and the materials are very tough.

Love it!! Review by cakers
Rating 5 of 5
Every summer since we have had a pool the solar blanket was always wadded up on the deck and was such a pain to put on and take off.
It was usually never put on and therefore the water was usually cold.
I have to say that even my anti-pool husband commented on how easy it was to cover and uncover the pool.
Our pool is 24' round and I have a 27' cover to go over the sides. I can now do it by myself in a matter of minutes.
I suffer from disc disease in my back and it was not a problem going on or off! Well worth the money!!!!


Solar Saddle ™ Review by Guest
Rating 5 of 5
GREAT PRODUCT.
So easy to use and very convenient. We hung it on the backside of the pool and it is completely out of the way with or without the solar cover.

Solar Saddle ™ Review by Tim
Rating 5 of 5
Great invention! It takes seconds for one person to cover/uncover the pool and you don't notice it hanging on the backside.